The US departments of Justice, Commerce and Treasury have issued a joint notice on the involvement of third countries in sanctions and export control evasion involving Russia and Belarus. The document notes that one of the most common tactics for evading Russian sanctions is using third-party intermediaries or transit points, which includes Armenia. Reuters
Matthew Axelrod, assistant secretary for export enforcement at the US Department of Commerce's Bureau of Industry and Security, said that several countries, including China, Armenia and Uzbekistan, are among the transit points through third parties to avoid sanctions and export controls imposed on Russia and Belarus. source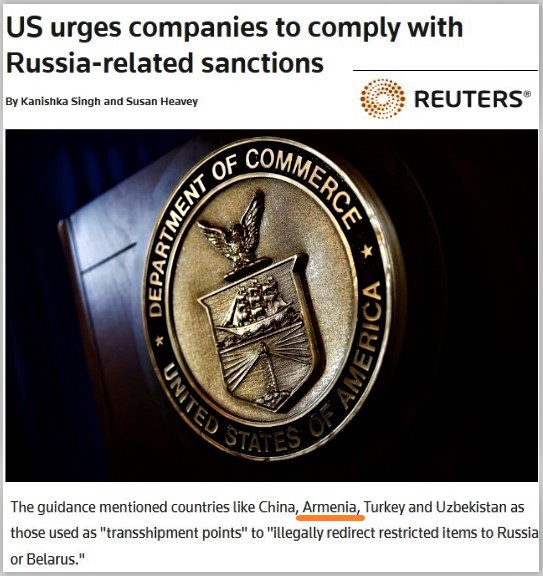 The volume of Armenia's trade turnover with Russia and Belarus in 2022, especially the sharp increase in exports, and other points give a hint to fully confirm the views expressed in the note of the US government. Armenia's total exports in 2022 increased by 77 percent and amounted to $5.3 billion. In 2021, this number was $3 billion, which means that there was an increase of $2.3 billion in one year. source
Last year, 40 percent of exports fell to Russia, and the remaining 60 percent was the export share of other 100 countries, which means $2.9 billion. In terms of value, exports to Russia in 2022 increased 3 times compared to the previous year and increased from $841 million to $2.411 billion. source
When these figures are carefully analyzed, serious doubts begin to arise. What is the reason for the sudden increase in the volume of goods sold by Armenia to foreign markets in 2022?
Is it possible for Armenia, which has not been able to export more than $500-600 million of goods to the Russian Federation for years, to sell $1.6 billion last year to a fantastic extent (3 times more)?
Armenia doesn't have additional resources or new products to sell that could increase its export by 3 times. To increase the weight of exports, new production sources and additional export potentials are needed. The structure of Armenia's exports traditionally consists of agriculture, mineral and alcoholic beverages, tobacco products, food and industrial products, copper and molybdenum ores. In order to increase the export of these products by 3 times, domestic production should increase by at least 200 percent.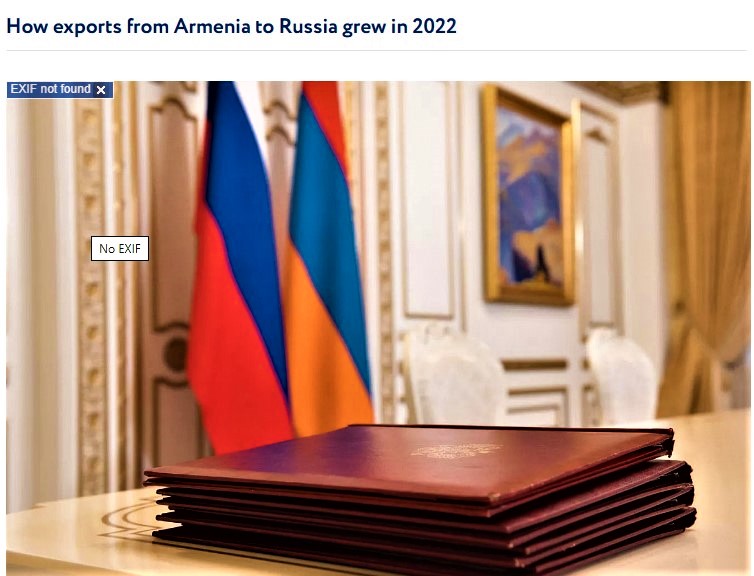 According to the National Statistical Committee of Armenia, in 2022, the total industrial production in Armenia, including food products, grew 7.9%. The increase was mainly not due to mining, but due to the production of fruit and vegetable preserves, as well as industries serving construction. Production from metal mines (copper, molybdenum, etc.) decreased by 4.7%. The production of metallurgical products and metal products increased by more than 15 percent, which is due to the increase in the import of components of these products. source
As it can be seen, the nominal value or specific weight of the products that Armenia can export abroad in 2022 compared to 2021 cannot be more than 14-15 percent.
From this point of view, if Armenia sold goods worth $841 million to Russia in 2021, in 2022 this figure could increase by 15 percent, in terms of value, by $120-130 million. Even if this number is 40-50 percent, it cannot exceed $400 million. However, the fact that the volume of goods sales increased by $1.6 billion and reached $2.4 billion indicates secret agreements and illegal economic cooperation.
So, what is the source of those $1.6 billion in additional export sales and where did they come from?
During the investigation, it becomes clear that most of products worth $2.4 billion exported to Russia, at least 60 percent, are goods transported from other countries via Armenia. Although these products come under the name of Armenia in the customs and trade statistics, in fact, these goods are owned by other countries. These arguments are also strengthened by the "statistics" of Armenia. According to the figures of Statistics Committee of Armenia, the export of mechanical and electronic equipment increased from $60 million to $695 million in 2022, and most of those products were sent to Russia and Belarus.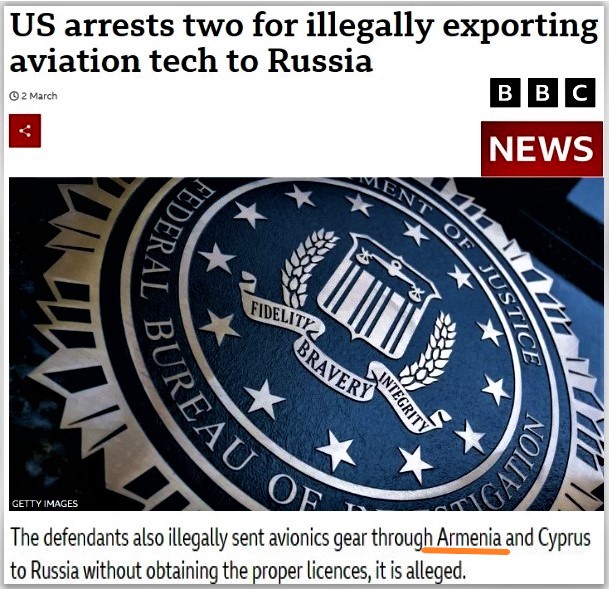 We emphasized above that industrial production increased by 7.9 percent last year, and in such a case, it is strange that the production and export of modern electronic equipment and technologies in Armenia's old Soviet-era enterprises has increased 11 times.
This number directly indicates that the 11-fold increase in the sales volume of electronic equipment was due to the goods transported through Armenia. This is confirmed by the statement of the US Department of Justice about the electronic technologies smuggled to Russia through Armenia a few days ago. Thus, the US government revealed the members of the transnational network transporting those goods, that two American residents of the city of Kansas City, US - Cyril Buyanovsky and Douglas Robertson, who were arrested for those reasons, sent special goods for the Russian Federal Security Service through Armenia and Cyprus with fake invoices. They are accused of transferring technology. Reuters
Another fact. A few months ago, the US Treasury Department's Foreign Assets Control Office put Armenia-owned "Taco" LLC (a supplier of Chinese company "Sinno Electronics. Co. Limited" in Yerevan) on the list of sanctions for the supply of electronic products and radio equipment to Russia. source
These two facts announced by the US government suggest that secret deals are behind the sharp increase in electronic equipment and technologies sold by Armenia to Russia, as well as other industrial products. The reality is that products and equipment belonging to other countries are transported to Yerevan and entered into statistics as Armenia's exports, and this illegality of Armenia, which is an intermediary country, is dressed up with official statistics.
Armenia's Minister of Economy Vahan Kerobyan's statement that 300 large companies with Russian capital and about 2,500 small enterprises will move and register to his country in the first half of 2022 due to the Ukrainian war also raises doubts about the illegal transportation of electronic devices to Russia. Reference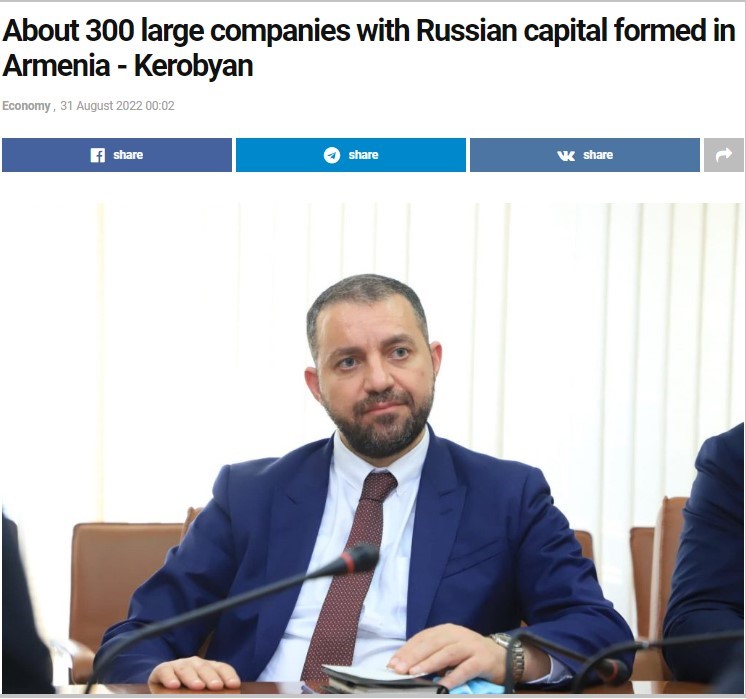 It's no secret that some of the "migrant companies" that moved to Yerevan are patronized by Russian oligarch Ruben Vardanyan, a billionaire of Armenian descent, and his business in Armenia includes various startups and technological platforms. After Vardanyan renounced his Russian citizenship and moved illegally to the Azerbaijani city of Khankandi last year, it is also known that he intensively traveled to Yerevan with the help of Russian peacekeepers. Behind these visits was to "regulate" the work of IT companies with Russian capital that moved to Armenia. We find in the statements of the relevant authorities of the United States about the presence of small enterprises that execute orders for the Russian military-industrial complex among those companies. Specifically, there is a note from the US Treasury Agency regarding the sale of microchips, electronic and telecommunication equipment by Armenia's "Milur Electronics" LLC and "Taco LLC" to the Russian company "Radioavtomatika". At the end of last year, the agency put those companies, as well as Vardanyan, on the list of sanctions based on the "Putin Accountability Act" project of the US House of Representatives. Reference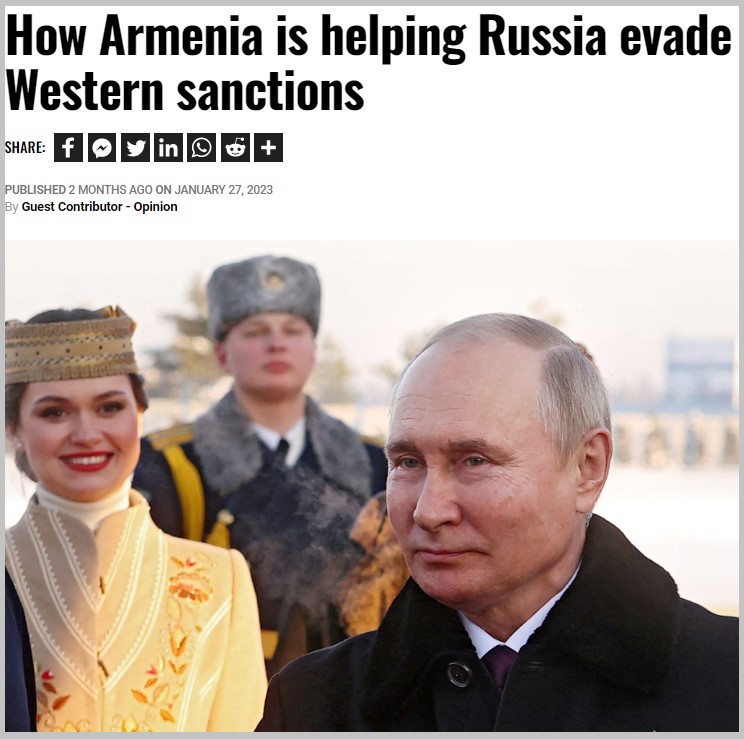 Now let's pay attention to the statement of David O'Sullivan, the representative of the European Union on sanctions control, to the Financial Times. The representative of the EU states that the registration of large increases in the trade of neighboring countries with Russia raises doubts and questions about the entry of goods on the list of sanctions into this country through the "back door". Quote: "We observe sharp jumps in trade transactions with countries close to Russia in the event of a massive decrease in trade flows from the European Union countries to Russia."
To support his views, O'Sullivan presents a table from the European Bank for Reconstruction and Development (EBRD), where we can see that Armenia and Kyrgyzstan have more active and higher trade orders with Russia. Link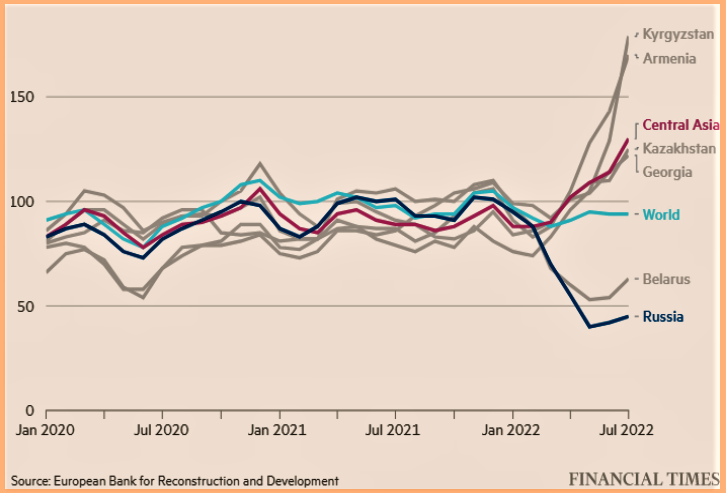 The EBRD infographic shows that EU, US and UK exports to Russia in 2022 (based on May-July statistics) have more than halved compared to the average indicators of 2017-2019, but Armenia and Kyrgyzstan's trade with Russia has increased by 80%. This infographic fully coincides with the statement of the US that Armenia is a participating country in goods illegally transported to Russia.
The views of the Prime Minister of Russia, Mikhail Mishustin, also provide additional grounds for confirming the above arguments. Mishustin's quote: "Together with our Armenian partners, we take prompt decisions to protect our commercial and economic cooperation, especially in the face of illegal sanctions against the Russian Federation." source
It is obvious that various trade schemes to evade sanctions stand behind these "prompt decisions". The dubious export statistics of Belarus and Armenia, another country on the note of the US state, also shed light on dark issues. In 2022, there was a sharp increase in the volume of trade transactions between Armenia and Belarus, and the exchange of goods increased by almost two times. reference
In the same period, the financial exchange between Russia and Belarus reached a record level - $50 billion for the first time in history. Thus, the statistics of the growth of trade turnover in the Armenia-Russia-Belarus triangle in the last year leaves no room for doubt about the authenticity of the claims that it has increased due to the transits that the West considers illegal.
So, what kind of transit and from which countries can the goods transported through Armenia be brought?
Since the border gates of Azerbaijan and Türkiye and Armenia are closed, transit of goods from this geography is impossible. Plane flights from Türkiye to Yerevan once a week do not serve transit purposes either. It is also not believable that Georgia allows clandestine shipments through its border and airspace against the background of its support for Western sanctions and uneasy relations with Russia.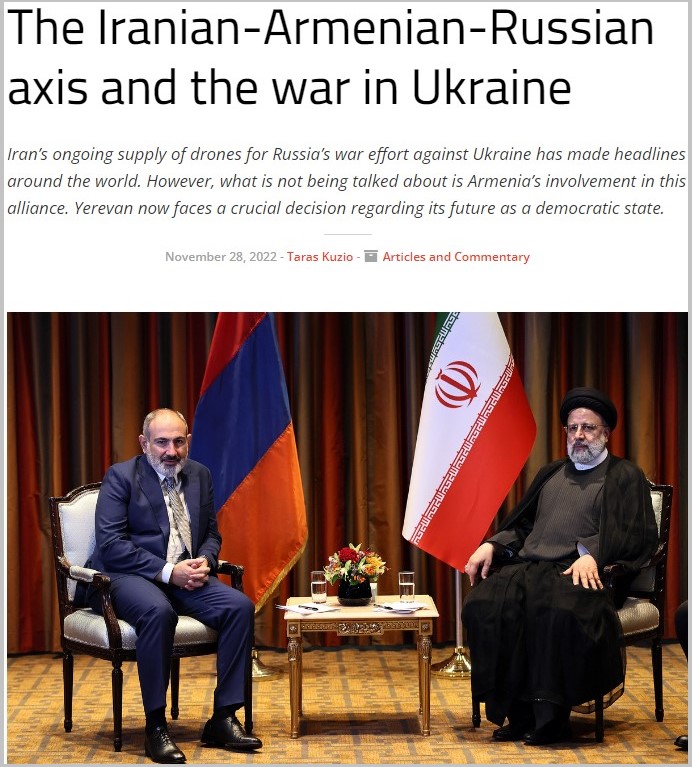 The Iranian version remains. This line is an illegal transportation route that is recognized by the European countries themselves. There are several arguments that confirm this, so let's dwell on them now.
In the last year, the trade turnover of Iran and Armenia has increased by more than 41%, and military-industrial goods dominate their structure. source
The transportation of those goods not only for the military needs of Armenia, but also to Russia is not an exception. According to the agreement reached between Iran and Armenia in 2022, the delivery of anti-aircraft missiles to Yerevan was planned. This was also confirmed by "Forbes" publication. It is likely that a certain batch of these UAVs was transported from Armenia to Russia as an intermediary. Forbes
The Office of Foreign Assets Control also confirmed the delivery of Iranian UAVs to the Russian military-industrial complex and included Iran's military enterprises in the sanctions list. Reference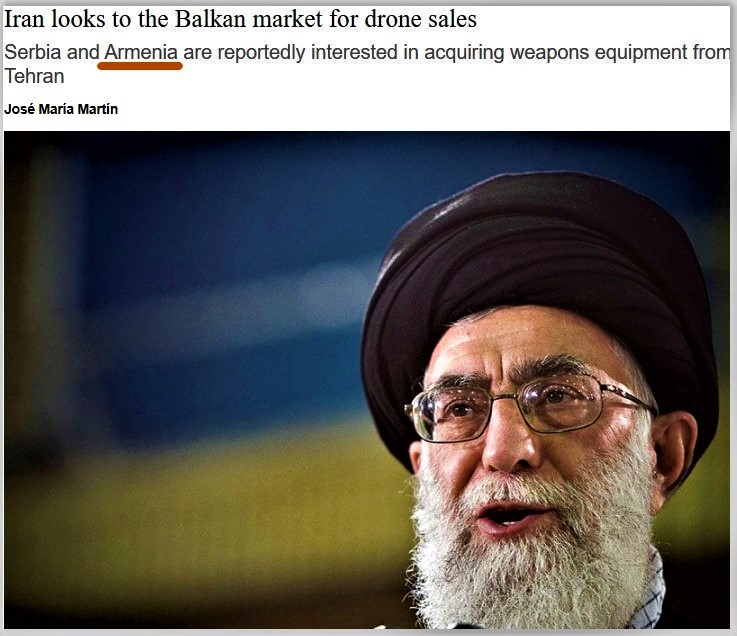 In recent months, the number of air transports from Tehran to Yerevan and from Yerevan to Russia, as well as in opposite directions, has increased several times. Among them, Iran Air Cargo, a subsidiary company of Iran Air, was confirmed to have violated sanctions jointly with Armenia. Thus, last year, Iran Air Cargo made non-stop flights from Yerevan's Zvartnots International civil airport to Moscow on August 21-29 and September 4-5. The Ministry of Economy of Georgia also confirmed that the planes belonging to the Iran Air Cargo company flew from Yerevan to Moscow, crossing the Georgian airspace. source
For violating these embargoes, Iran Air Cargo, Safran Airport Services and their parent company, Iran Air, have been subject to US sanctions. However, for some reason, the Zvartnots International of Armenia was left out of the sanctions. source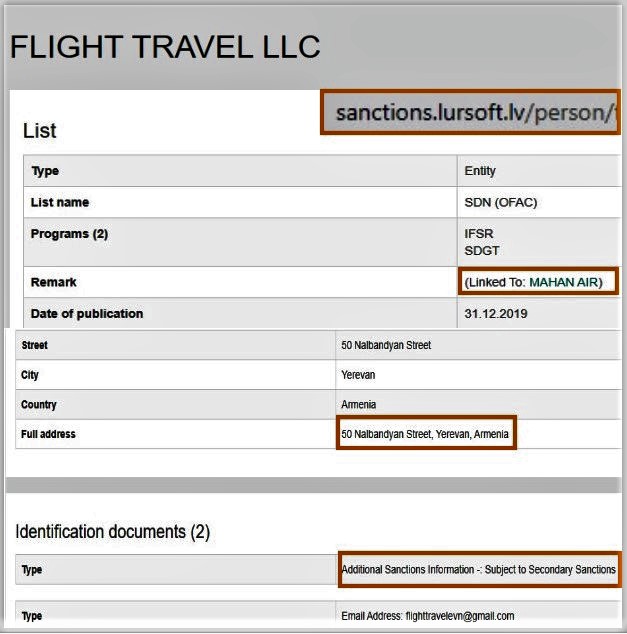 Iran and Armenia resorted to another fraud to hide the destination of cargo in air transport, using tourist airlines. Mahan Air private transport company of Iran organized "tourist flights" from different regions to Russia through Flight Travel LLC specializing in air transport and tourism in Armenia.
Mahan Air, based in Tehran, operates international flights to the Far and Middle East, Central Asia and Europe, and its flight geography is very wide. source
Flight Travel Mmc established in 2018 and Mahan Air as its subsidiary in Yerevan engaged in fulfilling active transportation orders in 2022. source
Both airlines were placed on the US Treasury Department's Office of Foreign Assets Control's sanctions list in 2022 for transporting various suspicious goods under the guise of civilian flights. source
This fact itself proves the transportation of sanctioned goods from Iran to Russia through Yerevan.
Finally, from the facts and arguments we have listed, it is safe to conclude that Armenia is indeed the main intermediary or point for the transit of sanctioned goods from Iran and other regions to Russia and Belarus.